about us
Holly and Victoria first met at The War and Peace Revival 2016. After realising they lived just down the road from one another, the following year they decided to perform a couple of numbers together at the same show. 
And the rest, they say, is history! 
With a sound straight from the Swing-Time era, The Dulcettes give any song a vintage vibe. Specialising in performing songs from the 1920's through to the modern day, Holly & Victoria can add vintage glamour and entertainment to a wedding, birthday party, afternoon tea, care centre, retirement village, charity fundraiser....you name it, they've got it covered! 
"Wonderful, talented singers, they have an easy ability to perform songs in the style, of several 20th Century decades with such a perfect sound and harmony that leaves others behind, so it's no wonder that they are in constant demand... Reliable, charming and talented. What more can you ask for?" 
- Allan Ede, Headcorn Combined Ops 
Victoria
Victoria graduated from The Academy of Contemporary Music with a First Class Honours Degree in Professional Music Performance. As well as performing her original music (and with The Dulcettes of course!), Victoria is part of "International Pin Up Darlings" The Satin Dollz! Based in Hollywood, Paris and now London.  In the London group, Victoria performs lead vocals and has taken on the role of Vocal Captain. With elegance and class beyond her years, Victoria mesmerises her audience with stunning vocal performances, reminiscent of the wartime era. She is influenced by a range of musicians including Peggy Lee, Frank Sinatra, Katie Melua and Norah Jones. Victoria has performed at prestigious events and venues all over the UK and beyond, including The RHS Chelsea Flower Show, Bestival, The 100 Club (London) and the infamous Ronnie Scott's.  
Hol
ly
Holly trained at The American Musical Theatre Academy of London. You may recognise her already as she has had an extensive career in the vintage world under her alter ego Miss Holiday Swing. She has been lucky enough to perform at many prestigious events and venues across the country such as Cahoots London, The Twinwood Festival, The Imperial War Museum (Duxford), and EuroTunnel Le Shuttle to name but a few! Holly has also performed for Aida Cruises and Saga Cruises. 
Her love for vintage music extends from the 1920's through to the 1960's, but her particular favourite is the wartime era. Nothing pleases her more than getting dolled up in the elegant fashions, and sporting a victory roll or two! Often told she was born in the wrong era, her dulcet vocals also match those of the 1940's. Holly also joined The Satin Dollz in 2018, performing with their London Division. 
So, two power house vocals together can only mean great things, right?!
These Ladies have taken over the Vintage World by storm! Performing at prestigious events and festivals such as Cahoots, The War & Peace Revival, Twinwood Festival, Battles for Victory, Folkestone harbour Arm, Biggin Hill Air Show, Elsie May's Live Lounge and most recently The Dulcettes have gone international and performed at Les Pas De Calais Liberte in Bethune, France. The Girls also continue to work with the UK's No.1Jive and Swing band, The Jive Aces, as their guest vocalists.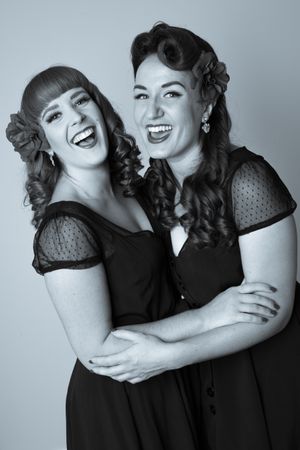 reviews
"The Dulcettes are very talented & lovely young Ladies, they always look amazing and sound pitch perfect every time, they are beautiful Girls inside and out, its always a pleasure to work alongside them. Book them for your event, you'll be more than pleased that you did!' - Viv The Spiv  
"I first met The Dulcettes in Ashford town centre where they were performing on the bandstand. I instantly fell in love with their performance and could see everyone enjoying it, so booked them for Wye Farmers Market, which I run. They performed at our Christmas market, and Easter market, dressed so beautifully, they really look the part and sing great 50's songs! I have since booked them for Christmas markets in Wye and Herne Bay. Visitors love them and dance and singing along, they create a wonderful atmosphere.  I will be booking The Dulcettes for more events this year!" - Beckie Alves
"The Dulcettes Perform a truly lovely rendition of our duet of Jingle Bells with Mr Buble. Guaranteed to melt the hearts of even the Scrooge-est among you!" - The Puppini Sisters 
"Wonderful, talented singers, and a favourite of mine. They have an easy ability to perform songs, and in the style, of several 20th Century decades with such a perfect sound and harmony that leaves others behind, so it's no wonder that they are in constant demand. I have booked them to perform at the Combined Ops Show for the last two years and they will be there again in August, such is their popularity with our audiences. Reliable, charming and talented. What more can you ask for?" - Allan Ede, Headcorn Combined Ops 
"The Dulcettes performed for the Tregothnan Estate last weekend at our Brewers Hall Open Day and stole the show. They were amazing, fabulous voices and true entertainers. They created a wonderful 1940's atmosphere. We've already booked them again for next year. I can't recommend them highly enough." - Rachel Halley 
"What a wonderful evening listening to two fabulous ladies! Enchanting harmonies and a great selection of songs. I can't wait to stick their CD on repeat. 10/10."  - Dom, Folkestone  
 "The Dulcettes kindly played for my 40th birthday garden party. Their vocals were amazing and their set fitted the theme of the day perfectly. Plus they are both lovely and friendly. Would highly recommend and definitely would book them again!" Nicola McCabe
"I went to see the girls perform last night  and the pair of them blew me away. Absolutely fabulous, really interactive with the crowd, gave a good mix selection of 40"s 50"s tunes and revamped some modern sounds with a 40"s twist superbly. I will definitely be following The Dulcettes from now on, it brought back some good memories for me when in my happier times. Love you girls, keep up the great work!" - Annmarie, Folkestone 
"Incredibly proud of The Dulcettes for their amazing performance tonight and the official launch of their new album, Happy Days.  It has been a privilege seeing the girls' incredible journey and I've been so lucky to be a part of it. Big things coming your way..." - Robyn Marks Photography, Folkestone 
"The Dulcettes were absolutely brilliant! Everyone loved their performance at our Christmas Market! The duo are very polite, professional & charismatic and do everything with real great efforts. They are definitely going to be on my list for any future events and I can't wait to work with them again!" - Red Kite Housing