the dreamrollers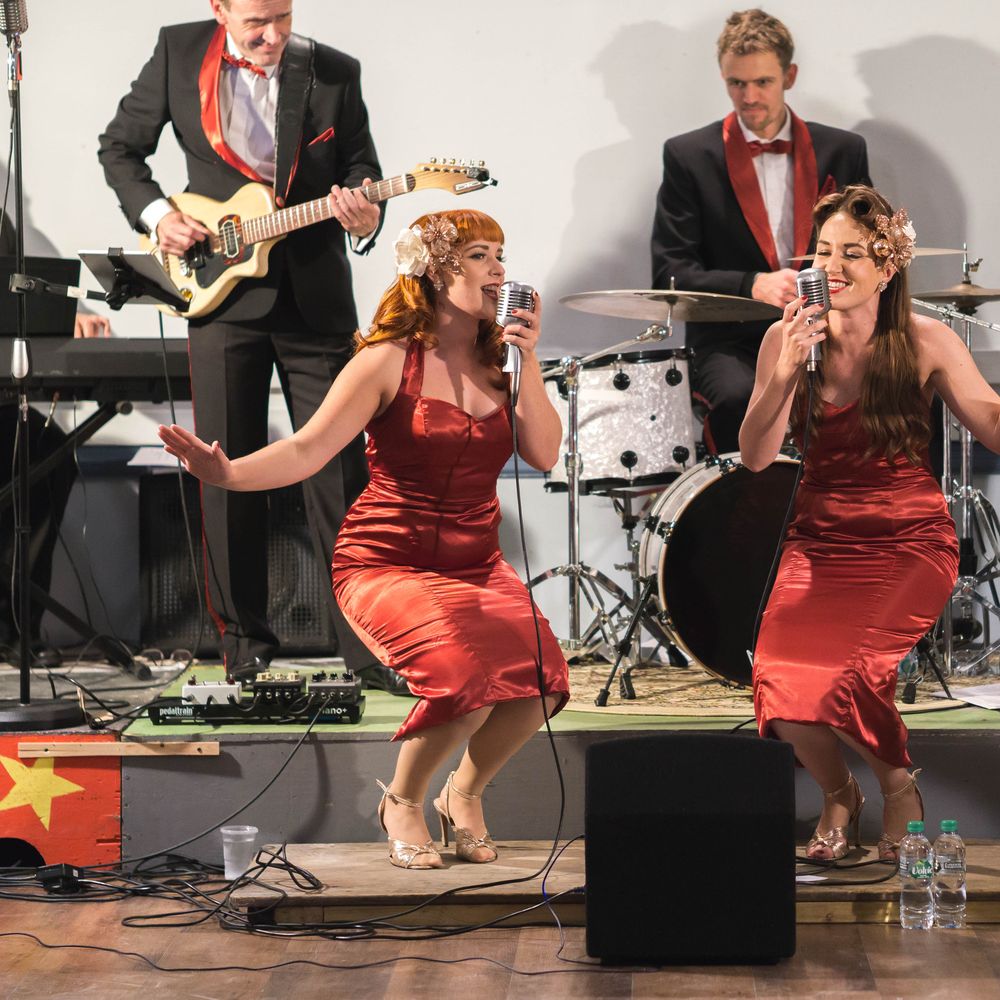 The Dreamrollers Featuring The Dulcettes
As well as performing as a Duo, The Dulcettes work with a rocking new band! For enquiries message us via our 'contact us' page.
A fabulous seven piece bringing you the heat and passion of authentic Rock'n'Roll, seasoned with subtle hints of Swing and R 'n' B, that will get you up on your feet and cuttin' the rug in no time! 
"

What an outstanding event! This band was even better than I thought they'd be, and I knew from the assembled talent, they'd be excellent! - Andrew Hall " - Jim Hollands
— Vintage World Magazine
About us...
Bringing you all the heat and passion of authentic Rock'n'Roll, in a show aimed directly at dancers.     
This fabulous new seven piece outfit will get you up on your feet and cuttin' the rug in no time! Seasoned with subtle hints of Swing and R'n'B, it can rightly be described as the perfect Jive band!   
What a line-up!   
Victoria Bass. (Lead and harmony vocals)   
Victoria completed her degree course at The Academy of Contemporary Music (scoring a first), and has already found success working with heavyweights such as The Jive Aces -not to mention her own duo, The Dulcettes.  Victoria also casually scooped up some highly coveted awards along the way, including Best Original Song at Open Mic UK.  With a voice like hers, it was inevitable!   
Holly Chambers. (Lead and harmony vocals)   
Holly, a.k.a. Miss Holiday Swing, graduated from The American Musical Theatre Academy - and soon established herself as a first rate solo artist.  Now partnered with Victoria as the other half of dynamite vocal duo The Dulcettes, Holly's enviable strength as a performer is neatly underscored by regular stints with The Jive Aces – and those guys are real picky about who they work with!   
Al Nicholls. (Saxophone)   
Sauvé, debonair – and along time champion of vintage music, Al has wowed audiences across the globe with his prodigious talent on the tenor Sax.  From his own outfit, Blue Harlem (Imelda May's launch pad) to The Big 6,and a myriadof top shelf bands.  The depth and character of his artistry put him in a league of his own.  Think Coleman Hawkins, Plas Johnson and Rudy Pompilli all rolled into one, that's the mighty Al Nicholls!   
Simon Picton.  (Lead Guitar)   
Surely one of the UK's premier Rockin' Roots guitarists, Simon will already be known to most as Si Cranstoun's axeman of choice, but it's fair to say he's also shared the stage with some of the most respected Jazz and Blues acts out there.  Simon is a full-on tour de force, each and every time he picks up that ol' six string.  Sometimes wild and sizzling, sometime warm and shimmering, always right on the money!   
Chris Gardner.  (Piano)   
Classically trained pianist and veteran Rock'n'Roller?  It may sound unlikely, but Chris has certainly made his mark on both scenes.In this instance however, it's his pounding Boogie grooves and sparkling solos that concern us.  Back in the '80s Chris caught the attention of R'n'R chart act The Stargazers, who promptlyhired him.  This led to a wealth of high profile engagements –and if you've not yet seen him in action, there's a fair chance that you're familiar with his output in other areas.  As an author/historian, Chris is considered the world's greatest researcher, archivist and expert on the life and music of Bill Haley!   
Sam Gardner.  (Drums)   
Young blood Sam Gardner (son of the aforementioned Chris) studied at the famous Leeds College of Music, amply proving his worth since then as side man to many leading international Jazz artists.  Now following in his Father's footsteps, he effortlessly turns his hand to Rock'n'Roll. Utilising his unique and varied skills to great effect, Sam's work behind the kit is nothing short of a master class in percussive light and shade!   
Tim Purkess.  (Double Bass)   
Founder of THE DREAMROLLERS, Tim 'Trundle' Purkess has been a familiar face on the '50s circuit for decades.  He has made countless appearances with The Stargazers (signing up at the same time as Chris Gardner) in addition to regular shows with The Big Six, Henri Herbert, Jackson Sloan, Sugar Ray Ford, The Piccadilly Bullfrogs, et al.  Noted for bold, swinging rhythms,formidable drive – and Swiss watch timing,Tim's trademark power and authority forms the ideal counterpart to Sam's deft, creative drumming.    
Individually, the members of THE DREAMROLLERS have(in addition to those previously mentioned), played and/or recorded with an amazing array of famous names from the world of (real) music:  Bill Haley's Comets, Gina Hayley, The Jodimars, Imelda May, Mike Sanchez, Ray Gelato, King Pleasure, The Big Town Playboys, Joe Houston, Nappy Brown, Jimmy Ruffin, Champion Jack Dupree, Freddie Bell, Don Lang, Sleepy LaBeef, Big Al Downing, Linda Gail Lewis, DizDisley,Little Willy Littlefield, Charles Brown, Groovy Joe Poovey, Johnny Parker, the list goes on…